On December 2-4, 2022, the 2nd International Conference on Digital Society and Intelligent Systems (DSInS 2022), hosted by Southwest Jiaotong University and co-organized by University of Technology Sydney, Southwestern University of Finance and Economics and Wuhan University of Technology, was successfully held.


The conference invited outstanding experts. They are: IEEE Fellow, CAAI Fellow, Prof. Xizhao Wang from Shenzhen University, Prof. Xintao Wu from University of Arkansas in U.S, Prof. Xianyi Zeng from University of Lille in France, Prof. Tianrui Li, from Southwest Jiaotong University, Prof. Guandong Xu from University of Technology Sydney in Australia, and Prof. Xin Yang from University of Finance and Economics, etc. Due to the pandemic, the conference was held online. The conference attracted nearly 100 scholars to participate online.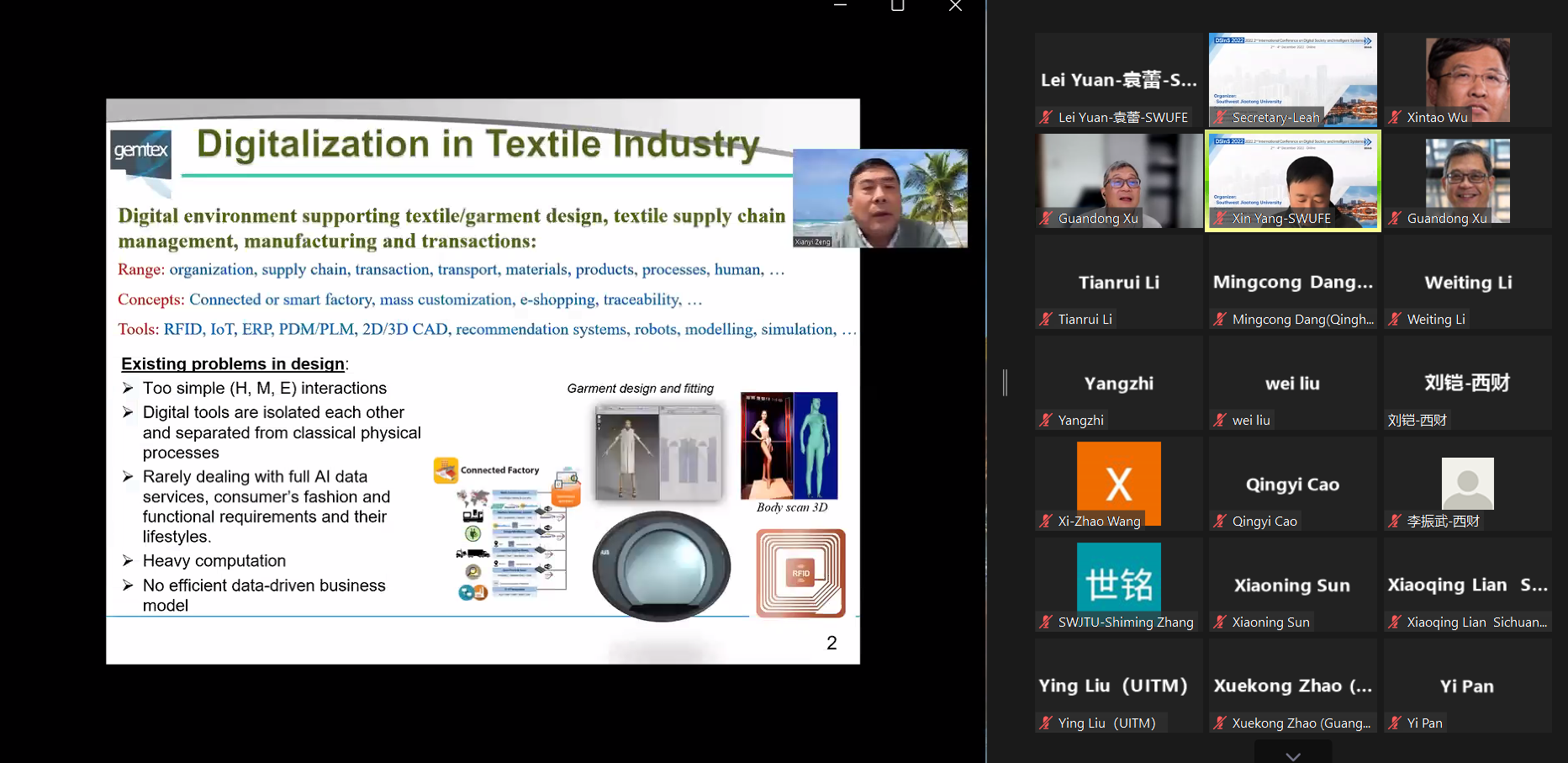 In the keynote speech session, Prof. Xizhao Wang, Prof. Xintao Wu and Prof. Xianyi Zeng brought the latest research progress sharing and achievement display in their respective research fields with a very high professional standard, and conducted in-depth academic exchanges with the guests. It brought a high-level digital society and intelligent system cutting-edge academic sharing meeting for industry colleagues.




The DSInS 2022 conference set up two special sessions.The two special session focused on "Robust Visual Analysis and Its Application" and "Privacy Protection Healthcare Data Analysis" respectively. There are seven inspiring invited talks and 16 oral presentations in these two special sessions.


During the DSInS 2022 conference, the participating experts and scholars discussed enthusiastically and shared academic achievements, providing a high-level communication channel for experts in the digital society and intelligent system-related fields from all over the world. Through the holding of DSInS 2022, the participating researchers were stimulated for scientific research, guided the in-depth thinking on the frontier development direction of disciplines in the field of big data and artificial intelligence, and increased the exchange opportunities between scholars.